Nikolas Tsangaris wins Keep an Eye Outstanding Talent Award
4 december 2022
On Sunday afternoon, Dec. 4, the Keep an Eye Outstanding Talent Award 2022 was presented. Drummer Nikolas Tsangaris received the award from conductor Jochen Neuffer. He received the award, in the form of a sculpture and a cash prize of € 2,500, during the final concert of the fall tour Fast Future of Jong Metropole 2022 in LantarenVenster in Rotterdam.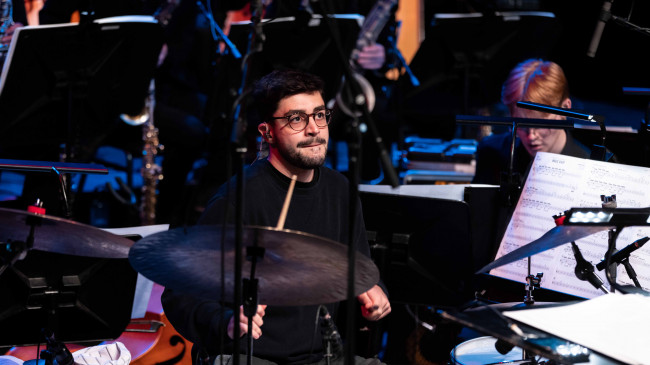 Nikolas in action during Fast Future
Beautiful words
Among the audience in the sold-out hall was Nikolas' grandfather. He had come over from Cyprus especially for this concert, but no one knew that Nikolas was going to win the prize. He too heard Neuffer's beautiful words about his grandson:
"This prize is awarded to a musician who is an all-round talent. Making music is one aspect of being a musician, but it takes many more talents, such as reliability, commitment, diligence, friendship, focus and more. This year's Keep an Eye outstanding talent award goes to a musician who is central to the orchestra and connects all sections. A hard-working, open-minded and curious musician who holds and drives the orchestra together."

Nikolas with conductor Jochen Neuffer and soloist Donny McCaslin
Outstanding Talent Award
The Keep an Eye Foundation's special Outstanding Talent Award is presented annually to the musician within the Young Metropole orchestra with the most exceptional talent. This may be the best soloist, but the winner may also be "outstanding" in another area. The prize money enables the winner to continue working on his musical development by taking specific lessons or master classes.
About Keep an Eye Foundation
The Keep an Eye Outstanding Talent Award is made available by the Keep an Eye Foundation. This Foundation encourages talent development through various grants, awards, shows and festivals. Music - and jazz music in particular - can count on the warm interest of the Keep an Eye Foundation.